Use Webinars to Grow Your Practice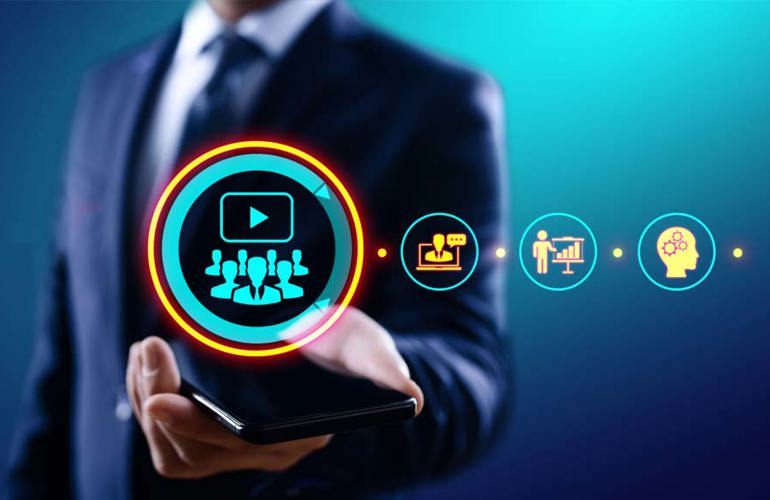 Webinars are an easy, cost-effective way to promote your chiropractic practice. These live, web-based seminars can help build your relationships with your existing patient base and expand your reach to attract new patients to your practice community. They encourage audience participation through real-time interaction. Webinars have grown in popularity due to explosive use of online communication platforms such as Zoom, GoToMeeting, and Facebook Live. Let's review some of the reasons webinars are such a great marketing strategy.
Establish Yourself as an Expert
You can use webinars to educate your patients about the services you provide and the conditions you treat. This strengthens your position as an industry leader and expert. When people register for your webinar based upon the information you will share, they are demonstrating that they are interested in what you have to say. You can use your webinar attendance as a gauge of the demand for the topic you are discussing. Low attendance could mean that your audience doesn't have the problem that you are hoping to solve. Webinars can also function as a focus group to test the demand for services that you are considering offering in your practice in the future.
Maximize the Use of Visuals
Most webinar platforms allow you to use your webcam, so use it! Your webinar will have more impact when people can see you presenting. You'll strengthen your rapport and build trust with your audience when they can see your face and look into your eyes, as compared to hearing a detached voice. Webinars are the next best thing to an in-person presentation when you have your webcam on. Go all out with visual slide content. Most webinars include a PowerPoint slide deck. Avoid copy text smaller than 28 points and limit the use of bullet points to a maximum of 3-4 per slide. Even better, avoid bullet points all together, and focus on creating slides with graphic images that help tell your story and communicate your main points. If you are not the creative type, hire a designer to help give your slides the impact that they need. It will be worth your investment!
Invite Guest Speakers to Increase Interest
Do you have multiple providers in your practice such as a Massage Therapist or Acupuncturist? Consider inviting them on your webinar for an interview-style conversation. This will help promote their services within your practice. You also spotlight other practice team members for their unique contributions to your practice. Do you have a relationship with any local influencers in your community, such as athletes, business owners, or celebrities? You can grow your audience by leveraging their popularity and asking them to promote the webinar to their following. You can grow your audience substantially through cross-promotion.
Generate New Leads
When someone registers for your webinar, they provide you with their contact information. This gives you the opportunity to follow-up with an offer to opt-in to receive more information about products or services that they are interested in in the future. Opening the door to future conversations gives you the ability establish trust over time. This multi-step approach to your sales process builds a pipeline of potential new patients. This has been shown to be more successful than marketing efforts that have only a single touchpoint or interaction. Studies show that it can take between 7-10 interactions before someone decides to take action. Gaining someone's interest and attention through a webinar may be the first step in completing the sale.
Follow-up
Once you've completed your webinar, post it on YouTube or Vimeo and send a link to the recording to those who registered but couldn't attend the live event. People may have forgotten about the webinar, or the timing didn't mesh with their schedule. It is not unusual for more people to watch the recorded webinar than those who attended the live one. Webinar attendance is not a determining factor in lead quality. People who didn't attend your webinar can still be good leads. Don't make the mistake of assuming that people who didn't attend your webinar are not interested in your services. In fact, they may even be better leads since they have a busy schedule and may be more likely to need your services.
Practice Makes Perfect
If you are not used to presenting or haven't done a webinar before, it's essential to take some time to practice your presentation. Do a practice run in front of a friend or colleague. Record a video of yourself giving the webinar and then play it back to identify areas that need polishing. Focus on quality not quantity. One well done webinar per month is better than four mediocre webinars. Finally, promote your webinars with email, Facebook ads, in your practice newsletter, and with in-office signage. Sending an email reminder, the day before the event can increase attendance from 20-33 percent.
There are numerous benefits to using webinars to grow your practice. Although we've only discussed some of them, it should be clear that webinars are an excellent tool to build patient engagement and grow your practice. Think about how you can use webinars for lead generation and to increase patient retention. Who knows? Maybe you'll end up being the next Internet sensation!
Dr. Mark Sanna is a member of the Chiropractic Summit and a board member of the Foundation for Chiropractic Progress. He is the CEO of Breakthrough Coaching. (www.mybreakthrough.com 1-800-723-8423).
---