Anthony Cicini
President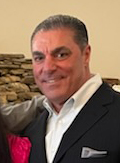 Anthony has Menthol flowing through his veins! With 25 years of experience innovating, formulating, and manufacturing topical pain relief solutions.
For the two years following the launch of Stopain® Clinical, Anthony focused his time on introducing the product line exclusively to athletic trainers, physical therapists, and chiropractors.
His passion for these healthcare professions led to the assembly of the current Stopain® Clinical team and continues to drive Troy Healthcare's commitment to providing innovative and highly-effective topical pain relief solutions exclusively for use and sale by Healthcare Professionals.
Co-Founded Troy Healthcare, LLC in 2010
Purchased the Stopain® Brand and discontinued contract manufacturing Biofreeze in 2010
Developed & Launched Stopain® Clinical specifically for use and sale for the Healthcare Professional Market in 2017.
---
Follow Anthony Cicini